Keep an eye on your cellar
Thanks to this connected device, ensure a flawless quality to all your drinks and monitor the status of your cellar in real time. Identify possible temperature and pressure malfunctions in order to react quickly and keep your drinks fresh and tasty at all times.
BENEFITS
View all these measurements directly on the 7″ screen
Connect your device to our Loop data analysis platform and access the status of your cellar from anywhere
Intervene quickly in case of problems on your distribution lines thanks to our alerts and reduce your losses as much as possible if a problem should occure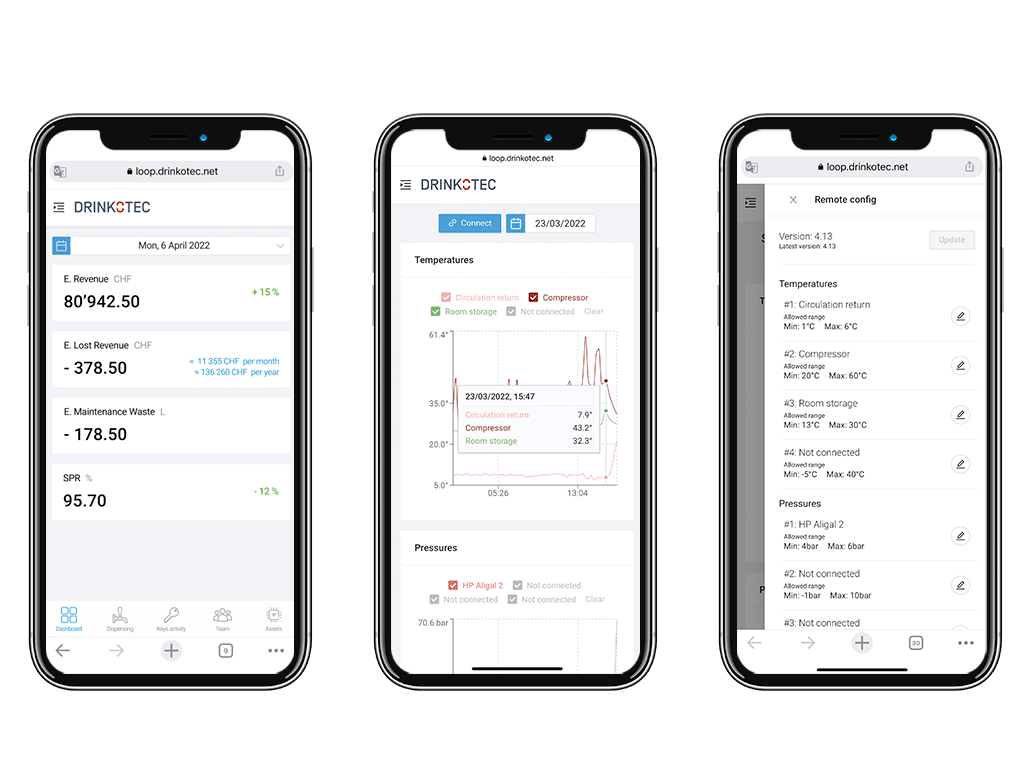 How does it work?
Depending on your installation, read up to:
4 temperature measurements

Ambient – If your beverages are not in cold storage, the temperature of the storage room is critical
Cooler Ice Bank and Circulation Return – It is essential that these temperatures remain constant to ensure a consistently fresh, quality drink
Compressor cooler – Allows for quick response to compressor malfunctions
4 pressure measurements

HP CO2 – For carbonating water and beer in non-refrigerated rooms
HP Nitrogen N2 – Getting your products to the point of draw
HP Aligal 13 – For cold rooms
H2O – water supply pressure to ensure beverage quality and cooler longevity
Do you want to discover more about our solutions ?
You can either come to visit our showroom in Nyon – VAUD or one of consultants can meet you at your place.

IN NEED FOR SOME TIPS?
Leave us your coordinates and we'll call you back as soon as possible!